Noah
by Amir Nizar Zuabi (Young Vic International Associate)
They are fueling the jets now loading them with bombs.
Can't you hear that? Like a colony of ants chewing through the ground.

Noah was performed alongside four other short plays at The Young Vic (The Clare). Each piece was directed by a Young Vic Jerwood Assistant Director as part of their program.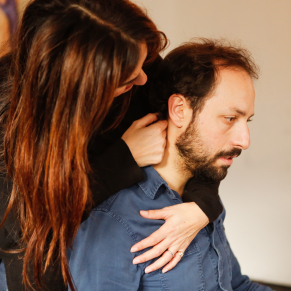 Writer Amir Nizar Zuabi
Director Sophie Moniram
Designer Cecilia Carey
Performers Philip Arditti, Nathalie Armin
Rehearsal Photographs Slav Kirichoks